Employers may think that information shared with external specialist advisers (including HR Consultants or Lawyers) regarding employees is protected from being disclosed to them, but it is important to note that there are limitations to this protection.
There are two types of legal privilege:
1. Legal Advice Privilege – this applies to confidential communications between a lawyer and their client where the purpose of the communication is to give or receive legal advice.
2. Litigation Privilege (LP) ­– this only applies if litigation is pending, reasonably contemplated or existing.
Limitations to legal privilege:
Legal Advice Privilege
- LAP can only apply between a lawyer and their client;
- Other professional advisers do not attract the same privilege;
- Lawyers must be 'sufficiently independent' from their client in order for LAP to apply. This can pose problems for in-house lawyers who are arguably not independent from their client.
Litigation Privilege
- LP will apply to documents and correspondence between lawyers, their clients and third parties (including other external professional advisers);
- However it does not apply to communications with external professional advisers regarding correspondence generated prior to the commencement of proceedings or if it is not found that litigation is reasonably contemplated, e.g. an employer's instructions to their HR consultant to help terminate the employment of a member of staff or deal with a long term absence.
Why is legal privilege so important?
It is important to ensure that any discussions and/or correspondence regarding an employee are protected by LAP or LP. Failure to do so may result in such communications being discloseable in the Employment Tribunal, which may have a severe adverse impact on an employer's case/claim.
This is particularly important now that employers are receiving an increasing number of Data Subject Access Requests (DSARs) from their employees or ex-employees. DSARs are increasingly being requested when an employee has a grievance, is put at risk of redundancy or is subject to a disciplinary or performance management review, well before a claim has been made or contemplated. What should and shouldn't be disclosed in a DSAR request by employees will be detailed in our next blog, however the principle should serve as a warning to managers who are involved in making these decisions as any communication between them (or with external advisers) may be discloseable in subsequent court or tribunal proceedings or on a DSAR. Caution must therefore be taken when making notes and sending emails or messages about an employee if this is not protected by LAP or LP.
Not all communication with lawyers affords LAP or LP protection either as the two cases below demonstrate.
The Employment Tribunal in Lingard v Leading Learners ET/2401985 provided clarification on the question of what happens when HR and employment law support is provided by a company who is supervised and employed by a law firm. It ruled that LAP would not apply where the employee HR consultant provides purely HR support services however it may apply where the employment law advice given is supervised by a lawyer. The following extract from the Employment Tribunal provides guidance as to what advice may be subject to LAP:
"Practical problems may arise where staff who are not legally qualified are involved in the giving of advice in a department supervised by qualified lawyers. The unqualified staff may be paralegals working supervised in a department. So long as the paralegals are properly supervised in accordance with solicitors' regulatory requirements, the advice will be the advice of the firms or the legal department rather than the advice of the paralegals themselves and thus will be privileged."
The case of X v Y Ltd [2018] 8 WLUK 94 highlights that legal privilege may be revoked when the "iniquity principle" applies to the advice given to a client. In this case, the lawyer advised his client to use the restructuring of the company to make the employee redundant as this would reduce the risk of the employee bringing a claim for disability discrimination. This email was forwarded to the employee by an anonymous source and he relied on this email in his ET1 claim. Although the lawyer argued (and the Employment Tribunal initially agreed) that this email was subject to legal privilege, the Employment Appeal Tribunal eventually accepted that the email could not be subject to legal privilege as it believed that the lawyer advised the company on how to conceal a potential discrimination claim rather than how to deal with the employee through the correct redundancy consultation procedures.
If you require any further advice on the area of legal privilege or any other related issue, please do not hesitate to get in touch with the Freeths Stoke Employment Law team!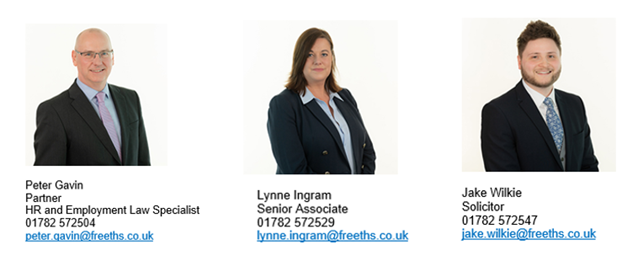 unknown

x

500
Recent posts from Freeths - Business